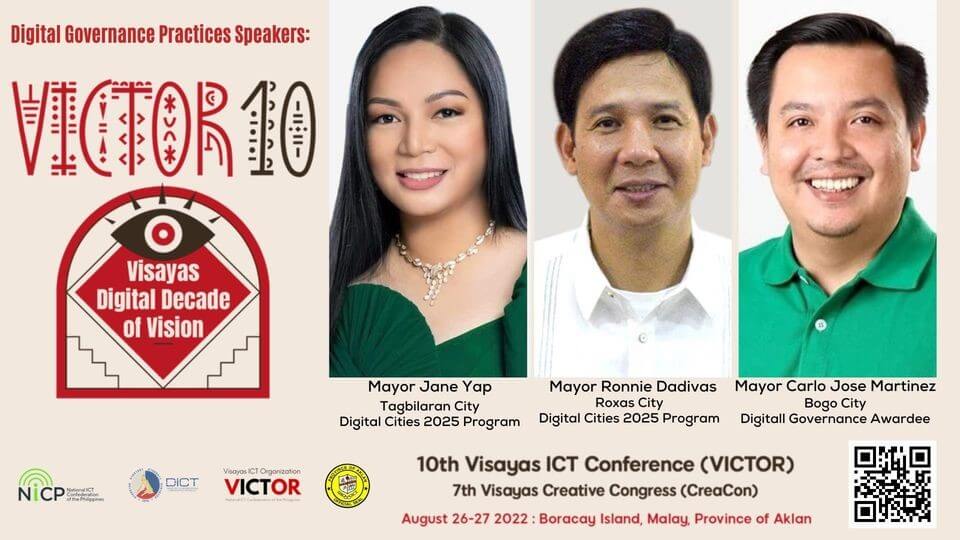 ---
Join them at VICTOR 10: Visayas Digital Decade of Vision!

The National ICT Confederation of the Philippines (NICP) Visayas ICT Cluster Organization (VICTOR), in cooperation with the Department of Information and Communications Technology (DICT), Aklan ICT Council (AICTC), the Provincial Government of Aklan, Bacolod-Negros Occidental Federation for Information and Communications technology (BNEFIT) is very pleased to invite you to the 10th Visayas ICT Conference (VICTOR) on AUGUST 26, 2022 and the 7th Visayas Creative Congress (CreaCon) on AUGUST 27, 2022 in Boracay Island, Malay, Province of Aklan.

The 10th Visayas ICT Conference (VICTOR) will also be conducted via Zoom Webinar and streamed live via Facebook. To register, please see the following details.

Date: August 26, 2022
Where: Zoom
Register Here: bit.ly/VICTOR10Registration

Since 2012, ICT councils in the Visayas under the National ICT Confederation of the Philippines (NICP) joined hands to forge a vision of creating a harmonious and collaborative development ecosystem among stakeholders in Western, Central, and Eastern Visayas- Region 6, 7, and 8 by adopting the internationally recognized clustering principle of economic growth. Despite the different challenges faced by each region, VICTOR movers bravely continued to learn and help each other. For VICTOR, the true spirit of ICT is not technology but innovation, collaboration, inclusion, and shared vision. With the theme – VICTOR 10: Visayas Digital Decade of Vision, we gladly share this celebration with you as we leverage this milestone to reach greater heights.

VICTOR seeks to promote the potential of the Visayan Islands as a location for ICT-enabled jobs, opportunities, and investments. It also serves as a venue for NICP ICT Council members and all its partners to gather during the first part of the year to exchange notes and provide updates, all in support of NICP's vision. NICP works through its member ICT councils, which are generally composed of government, academe, and industry to develop, implement, and sustain strategies to create more jobs and drive innovation in the countryside.

For inquiries, please feel free to contact VICTOR through secretariat@nicp.org.ph or nicp2010@gmail.com. Thank you.